Mono-floral Mānuka Honey MGO 265+
Single origin Mānuka honey from Tongariro national park. With an incredibly contrasting landscape and an active volcano, Tongariro boasts some of the best Mānuka honey found here at the end of the world. With over 70 eruptions since 1839, some say the volcanic soil promotes the growth of highly active Mānuka honey.
This particular batch is lighter and more delicate than most- but it's been our most popular tasting Mānuka honey... ever.
This batch is still young, and will also grow- it will peak around a 13+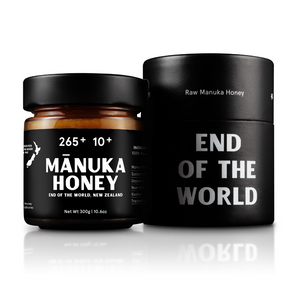 End of the World Ethical Honey
This honey was sourced sustainably and ethically by experienced New Zealand beekeepers, registered under New Zealand Ministry of Primary Industries and under a strict Risk Management Program, as well as adhering to our strict ethical standards.
You can view our ethical beekeeping practices here.
You can read more about MPI & RMP programs here.
With an MGO (methylglyoxal) of 292+, this raw Mono-floral Mānuka Honey is well above advertised level of 265+. The high DHA (dihydroxyacetone) indicates more growth too, reaching it's maximum level around 2023.
The very low HMF of 8mg/kg indicates the honey has not had any excessive heat treatment or high temperature storage.
Perfect addition to your overall wellbeing and to aid in a holistic approach to a healthy lifestyle.